Flight API,Flight Booking Engine,Flight Booking reservation System
Ryvox Softweb Technology Offers you The flight APIs allow you to find prices of flights from any given origin to any destination. One of the APIs doesn't even require a destination, while giving you the best prices for a variety of cities. It's ideal for inspiration applications aimed at offering several options to the traveller. The flight APIs also provide airport information. You can find the closest airport to a given location and even help the traveller auto-complete destination or origin forms in your application prototype. Check out the Travel Innovation Sandbox catalogue to discover even more possibilities.You can either search using an IATA airport or city code or actually define the search zone yourself. These APIs also allow you to get detailed information about all international and domestic flights.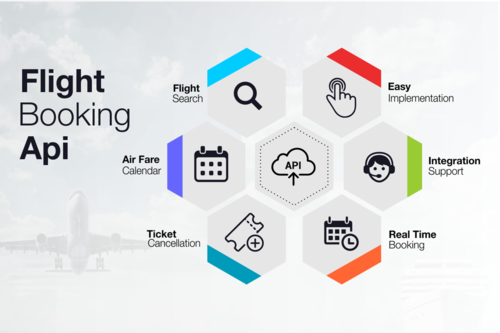 | SERVICES NAME | PRICE | DETAILS |
| --- | --- | --- |
| FLIGHT BOOKING API | ₹110,000+Tax | Domestic and international flights included |
| WHITE LABLE API | ₹50,000+ Tax | Domestic and international flights included |
| flight booking Api with souce code | ₹200000+ Tax | Domestic and international flights included |
Time saving Booking flight tickets will become a much quicker, slicker process, due to a user-friendly interface and instant confirmation. No longer will you need to enter data manually on multiple occasions, as our API will hold all the details and information you need in one place.

Cost savings Cost savings will be evident in many areas. Software is not needed, so no installation or maintenance will be required. The ability to book instantly, with real time pricing and availability on display will save a great deal of time and reduce operational costs. Integration with the Softweb Technology flight API will give you access to all the airlines weve partnered with for a one-time fee. This means you will not have to spend anything on system or content development at any point in the future.

Easy to use The coding will be handled by us, meaning you can concentrate on operating the simple, yet comprehensive, admin panel and dealing with your customers. The XML code that is used is common across the industry and so can easily and quickly be modified by our developers should this be required.
| FLIGHT LOGO | FLIGHT NAME | FLIGHT CODE | COMMISSION | Ryvox PLB | REMARKS |
| --- | --- | --- | --- | --- | --- |
| | Spice Jet | SG | 5% on Basic + YQ | | |
| | Go Air | G8 | 4.5% on Basic + YQ | | |
| | Indigo | 6E | 5% on Basic + YQ | | |
| | Jet Airways | 9W | 1% | PLB 6% on B+YQ. PLB not applicable for O,W,B,G class. | |
| | Air India | AI | 1% comm on (Basic + YQ) | 3% PLB on (Basic + YQ) | |
| | Sri Lankan Airways | UL | 5% | 0% | |
| | Malayasia Airlines | MH | 0% | 3.5% | |
| | Fly Emirates | EK | 5% on Basic + YQ | 6 % | |
| | Singapore Airlines | SQ | 4% | PLB 6% on B+YQ. PLB not applicable for O,W,B,G class. | |
| | Bangkok Airways | PG | 4% | 3% PLB on (Basic + YQ) | |
| | Air France | AF | 4 | PLB 6% on B+YQ. PLB not applicable for O,W,B,G class. | |
| | Biman Bangladesh Airlines | BG | 3 % | 3% PLB on (Basic + YQ) | |
| | Cathay Pacific | CX | 4% | PLB 6% on B+YQ. PLB not applicable for O,W,B,G class. | |
| | China Eastern Airlines | MU | 5% | 4.5% on ECO and 5% on business(PLB ON BASIC NOT YQ/Q SURCHARGES) | |
| | Dragon Air | KA | 5% on Basic + YQ | 3% PLB on (Basic + YQ) | |
| | Mihin Lanka Airlines | MJ | 5% on Basic + YQ | 4.5% on ECO and 5% on business(PLB ON BASIC NOT YQ/Q SURCHARGES) | |
| | Qatar Airways | QR | 1% | 4.5% on ECO and 5% on business(PLB ON BASIC NOT YQ/Q SURCHARGES) | |
| | Silk Air | MI | 5% on Basic + YQ | 3% PLB on (Basic + YQ) | |
| | Thai Airways | TG | 4% | PLB 6% on B+YQ. PLB not applicable for O,W,B,G class. | |
| | Turkish airlines | TK | 4% | 3% PLB on (Basic + YQ) | |
| | Air Asia | AK | 0% | PLB 6% on B+YQ. PLB not applicable for O,W,B,G class. | |
| | Olympic Air | OA | 5% on Basic + YQ | 4.5% on ECO and 5% on business(PLB ON BASIC NOT YQ/Q SURCHARGES) | |
| | Alaska Airlines | AS | 4% | 4.5% on ECO and 5% on business(PLB ON BASIC NOT YQ/Q SURCHARGES) | |
| | Etihad Airways | EY | 5% | 2% Plb on B+ YQ | |
| | Vistara Airlines | UK | 1% on B + YQ. | 2% Plb on B+ YQ | |
| | Air India Express | IX | N/A | | |
| | Oman Air | WY | 5% on Basic + YQ | 3% PLB on (Basic + YQ) | |
| | Air Asia | I5 | 0% | 3% PLB on (Basic + YQ) | |
| | Truzet | 2T | 3.5% on Basic+YQ | | |
| | Aircosta | LB | 3.5% B + YQ | | |
| | Air Pegasus | OP | N/A | | |
| | Malindo Air | OD | 5% on Basic + YQ | PLB 6% on B+YQ. PLB not applicable for O,W,B,G class. | |
| | BRITISH AIR | BA | 5% | PLB 6% on B+YQ. PLB not applicable for O,W,B,G class. | |
| | Lufthansa | LH | NIL | 3% for F/J/A/C/D/Z/P & 2.5% FOR Y/B/M/U/H/Q/W/S CLASS | |
| | All Nippon Airways | NH | 5% on Basic + YQ | PLB 6% on B+YQ. PLB not applicable for O,W,B,G class. | |
| | AIR MAURITIUS | MK | 4% | 3% PLB on (Basic + YQ) | |
| | Finnair | AY | 5% | 4.5% on ECO and 5% on business(PLB ON BASIC NOT YQ/Q SURCHARGES) | |
| | Alitalia | AZ | 5% on Basic + YQ | 2% Plb on B+ YQ | |
| | China Southern | CZ | 4% | 4.5% on ECO and 5% on business(PLB ON BASIC NOT YQ/Q SURCHARGES) | |
| | Ethiopian | ET | 4% | PLB 6% on B+YQ. PLB not applicable for O,W,B,G class. | |
| | Airarabia | G9 | 5% on Basic + YQ | 4% | |
| | GulfAir | GF | 0% | 4.5% on ECO and 5% on business(PLB ON BASIC NOT YQ/Q SURCHARGES) | |
| | Japan Airlines | JL | 4% | 3% PLB on (Basic + YQ) | |
| | Kenya Airways | KQ | 4% | 5% | |
| | Kuwait Airways | KU | 3% | 3% | |
| | Asiana | OZ | 5% | 2% | |
| | Thai Air Asia | FD | 4% | 3% PLB on (Basic + YQ) | |
| | Druk Air | KB | 4% | PLB 6% on B+YQ. PLB not applicable for O,W,B,G class. | |
| | Philippine | PR | 5% on Basic + YQ | 3% PLB on (Basic + YQ) | |
| | China Airline | CA | 2% | PLB 6% on B+YQ. PLB not applicable for O,W,B,G class. | |
| | Air Asia X | D7 | 4% | 3% PLB on (Basic + YQ) | |
| | Garuda Indonesia | GA | 1% | 4.5% on ECO and 5% on business(PLB ON BASIC NOT YQ/Q SURCHARGES) | |
Feature Highlights
Real Time Booking
Fast Response
Reliable and robust
Build in Analytics
Notification through email & SMS alerts for booking
flexibility and scalebility
Add Markup and Discount Facility
Add Agent Facility
cost effectiveness
Optimised
Business to Consumer model
Guest Login
Register Login

Business to Business model
Administrator Module
Distributor Module
Agent Module

More than seven types of search fields for Domestic and International flights
Leaving from and Going to
Depart and Return Date
Search any Flight Type like International and Domestic.
Search flights for particular Timings
Search for preferred airlines

Search Results Pages
Show dynamic availability in quick time
Show next and previous dates
Filters like air lines, departure and arrival timings
Sorting on Airline Name and types, Departure and Arrival, Fares
Airline wise Cancellation policies